The tulip originated as a Persian wildflower in the 1500s. They were extensively cultivated at that time. Since then, the tulip has become a symbol for many different things. Each different color tulip can have a different meaning.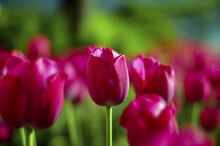 Persians use the tulip as an offering a young man makes to his beloved.
What the tulip says in the Language of Flowers is, "As the redness of this flower, I am on fire with love."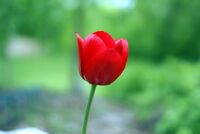 Red tulips symbolize belief and declaration of love. This love is irresistible.
Variegated
Edit
Variegated tulips symbolize beautiful eyes.
Yellow -  the colour of friendship. Showing true compassion and concern for others.
Edit
A Orange tulip is a symbol of perfect love.
White:
A white tulip is often used to apologize.
Pink:
Pink tulips represent the need for innocence in the world and the long path from becoming a girl to a young woman.