Mock-orange (Philadelphus; also Mockorange, Mock Orange, Syringa) is a genus of about 60 species of shrubs from 1 to 6 m tall, native to North America, Central America, Asia and (locally) in southeast Europe. Most are deciduous but a few species from the south of the genus' range are evergreen. The leaves are opposite, simple, with serrated margins, from 1 to 14 cm long.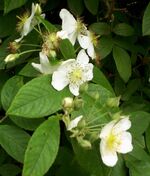 The flowers are white, with four petals and sepals, 1-4 cm diameter, and commonly (but not in all species) sweetly scented. The fruit is a small capsule, containing numerous small seeds. The bark is thin and flaky, finely shredding in longitudinal strips.
Symbolism
The mock orange plant represents deceit.
Ad blocker interference detected!
Wikia is a free-to-use site that makes money from advertising. We have a modified experience for viewers using ad blockers

Wikia is not accessible if you've made further modifications. Remove the custom ad blocker rule(s) and the page will load as expected.